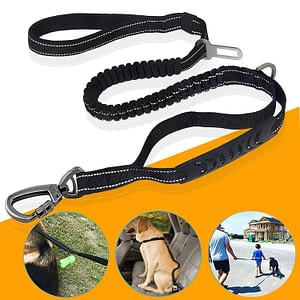 Shock Absorbing Dog Lead With Seat belt Anchor
Time for a new lead for Saber (seems to wear them out quickly) so after searching for something a bit different, I came across this little beauty by Feeleye UK on amazon. Shock Absorbing Dog Lead With Seat belt Anchor
I decided to try another so called zero shock lead, even though Saber destroyed his last one pretty dam quick. This lead has a very strong carabiner style connection with a lock that pushes up to lock and pull down to loosen.
It has reflective stitching for night walks and also a car seat belt anchor which is a big bonus. The lead also has a metal accessories loop for hanging poop bag holders or maybe a small torch, or in fact anything you need to carry on it.
Traffic Control Handle
The traffic control handle is large and comfortable which gives you good control for holding your dog to heal and teaching them to walk by your side.
The shock absorber part is fairly long when compared to the other one I had and it works well for when the dog makes a break for it taking the impact of those sudden jolts out of the arms. Very helpful for stronger dogs that want to run after and play with every other dog or cat that they see.
Guarantee
Also the seller says this is in his guarantee blurb "We want to make sure that this is the best dog lead that you have ever purchased. We stand behind all of our products. Our warranty covers any defects in materials or manufacturing and even covers accidental CHEWING by your dog" beat that for a warranty.
Seat belt Anchor
This lead comes with a seat belt anchor actually built in. I find this very useful, put Saber back in the car with the lead fastened to his harness and slot the lead straight into the seat belt anchor in the car, job done.
In Use
In use so far I have not had any problems at all with the lead, in (just over two weeks) of ownership.
No fraying on the shock absorbing part, no loss of the coating on the metal attachments and even better for some reason Saber has not tried to chew this lead, something that is close to his doggy heart normally.
The bungee part of the lead reduces the shock of a lunging dog and feels strong enough to last a few brutal pulls. The main handle is soft and comfortable to hold, I have used it for 4 hours on one walk with no discomfort whatsoever.
All in all I have high hopes for this lead and will update as is needed.
Update
Having used this lead daily since February, I now have a problem. The gate on the lead hook has locked in the open position. The hook has a gate operated by what looks like ball bearings and springs. When wanting to open the gate the unit is pulled down and then pushed back up to lock it, the lead is locked in the down position and will not push up to lock it. I emailed the seller who said send a photograph, which I duly did with an explanation of the problem.
The seller has ignored the second email for 10 days now. Therefore I can only assume he is not going to honour the warranty. I have had to buy a new lead and have marked the score down accordingly.